October 23
Support for Transgender Youth – October Spotlight Salon
7:00 pm — 8:15 pm
Virtual via Zoom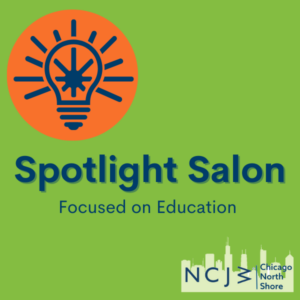 It Takes a Village: Building A Community of Support for Transgender Youth and their Families
Across the country there are increasing legislative attacks on the LGBTQ+ community with the majority of discriminatory bills aimed at stripping away health care and safe school environments for transgender and non-binary youth. Furthermore, extremists are perpetuating a disinformation campaign about trans youth, leading to increased stress and concerns about safety. Now, more than ever, it is important that we know the facts about transgender youth and their families, and that each of us can help create safe, welcoming communities for trans youth.
Video: https://www.youtube.com/watch?v=HPXcrLogTBsab_channel=HumanRightsCampaign
Please register below under the Bios of our amazing featured speakers.
Lisa Stanton: Lisa Stanton has over 20 years of professional and volunteer experience in Jewish non-profit communal work. Currently she is the Development Director at Camp Havaya- where campers and staff from all over the world -different races, cultures, practices, abilities, sexual orientations- come to camp because they know they are more than accepted – they are celebrated. She is a lifetime member and past president of the National Council of Jewish Women. Lisa is passionate about advocacy for Mental Health and the LGBTQ+ Community. She regularly volunteers and holds leadership roles with various organizations including Human Rights Campaign where she serves on the Parents for Transgender Equality Council (PTEC). Being a mom to twelve-year-old twins Max and Maya is the work that Lisa takes most seriously. The honor she has to model for Max and Maya is what it means to help repair the world; through acts of loving kindness, using their voices and skills to speak out on behalf of those who are marginalized in the hopes of building a more inclusive and equitable community.
Ellen Kahn is the Senior Director of Programs and Partnerships at the Human Rights Campaign overseeing a portfolio of programs and projects aimed at improving the lives of LGBTQ youth and families, including Welcoming Schools, All Children-All Families, Project THRIVE, Parents for Transgender Equality, HIV and Health Equity, and the HBCU Program. In her 15+ years at HRC, Ellen has shaped innovative system-change work in child welfare, education, and healthcare. She is nationally recognized as an expert on LGBTQ family life, LGBTQ youth, and frequently writes and speaks on these topics for a wide variety of audiences.
A self-described trans-affirming, progressive lesbian feminist social worker, and mother of two wonderful daughters, Ellen has dedicated her career to improving the lives of LGBTQ people– from working on behalf of people with HIV/AIDS in the early days of the epidemic, to facilitating dozens of "Maybe Baby" groups for prospective LGBTQ parents. Before joining HRC, Ellen spent 12 years at Whitman-Walker Health (formerly Whitman-Walker Clinic), leading the Lesbian Services Program for eight of those years; in that role Ellen led the expansion of programs to meet the needs of the growing community of LGBTQ people prospective parents, and those already navigating life with children. When she isn't working to change the world, Ellen enjoys a drama-free domestic life with her lovely spouse, non-shedding dog, and spending time with her two daughters. In her free time Ellen enjoys spinning, swimming, Netflix, and with some reluctance, scrolling Facebook to stay informed and entertained.