NCJW Chicago North Shore offers a variety of interesting education and/or advocacy-based programs. Learn about the issues that matter most.
Join us on Zoom, in person, and in small group gatherings. To learn about our upcoming programs sponsored by Spotlight Salon, Focused on Education, visit our events page.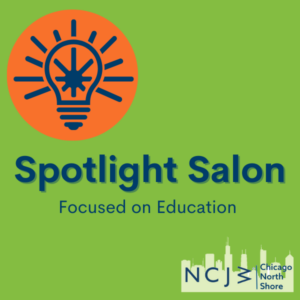 Below are some of our past Educational programs:
Environmental Justice in Chicago
Highland Park: A Year Later Turning Trauma into Action
Building Blocks of Advocacy
The Intersection of Gun Violence and Domestic Violence
Solo Aging by Choice or by Chance
Have We Made Progress on Racism in the US?
Authentically Preparing Yourself for the New Year
Questions? Contact Amy Kleinman, Board Director of Education, at [email protected].
National Council of Jewish Women (NCJW) exists to create a space where people can come together to transform our world. We work to improve the lives and protect the rights of the most vulnerable members of our communities, building and acting in partnerships with those most directly affected by our work. Our approach is intentionally intersectional, and utilizes a variety of methods of social change, including education, advocacy, and community service—we know everything is connected.
We are strong, powerful, progressive. We get things done. And we are changing the world.
*You do not need to identify as Jewish to be a part of NCJW. We welcome ALL advocates for change.
**We use 'women' expansively to include anyone who identifies with this term, which may include cis women, trans women, and femme/feminine-identifying genderqueer and non-binary folks.